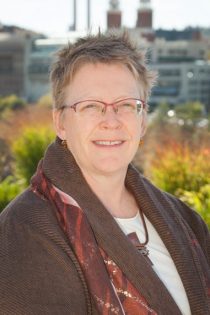 ---
Send a Message
Director of Housing Development
Spokane, Washington Office
Shannon Meagher is the Director of Housing Development at Kiemle Hagood, one of Spokane's largest property management and commercial real estate companies.  Shannon Meagher began her career with Kiemle Hagood in 2000 as the Director of the Community Building Division, which managed a number of housing programs for the City of Spokane from 2000 through 2014. Shannon has 30 years of experience with affordable housing development and management, grantsmanship, program implementation, project management, new construction and rehabilitation as well as process development. Shannon provides consulting, recapitalization and development services using her unique combination of talents to bring greater depth and opportunities for asset and project management of both affordable and market properties. Shannon is also part of the Kiemle Hagood Management Team.
HIGHLIGHTS OF ACCOMPLISHMENTS
Completed a refinance ($4.4M) and repositioning of a HUD subsidized 78-unit senior complex, allowing for annual cash flow to the   non-
       profit Owner;
Provided pre-development consulting services to a regional non-profit, ensuring the new construction 47-unit family complex serving very
       low-income families with children met funding and closing timelines;
Completed funding review, closing and project management through closeout and conversion to permanent financing of a 48 unit, new
       construction family complex with 4% LIHTC, State and Local funding ($10.7M);
Recapitalized and renovated a 48 unit family subsidized complex using FHA insured 223(f) financing ($4.6M). This completed interior unit
       renovations at a complex that had previously completed full renovations of all the building envelopes and created 3 fully accessible units
       while positioning the non-profit ownership for surplus cash flow;
Provided visioning and development expertise to single asset entity non-profit to acquire surrounding parcels ($402K); plan, obtain funding
       and construct a new Early Learning Center and complete site work ($3.2M); and currently preparing funding applications for   50+ new
       apartment units (estimated $18M) in a new master campus.  Mix of state and local grants and loans, plus FHA-insured financing;
Recapitalized and renovated a 22-unit, 3-story senior housing complex using an FHA-insured loan ($883K);
Obtained grant funding ($1.1M) for balance of common area planned improvements, plus another 30 units renovated in a 125 unit  senior
       subsidized housing complex, in a planned second phase;
Recapitalized and renovated a 125-unit senior housing mid-rise project using a $5.8 million FHA-insured loan. Renovations included all new
       aluminum windows, venting, roof, common areas, and 32 completely renovated units;
Provided visioning and project management to create and implement new residential standards in historic former SRO hotel. This mixed-
       use, market rate four-story building has 47 units, some with shared baths;
Recapitalized a 48-unit garden-style affordable family complex ($1.6 Million including bond-backed financing plus local funding, HOME
       funds and County 2060 funds) to replace the entire building envelope on 5 multi-story buildings, create individual electric sub-metering,
       address accessibility and conservation  issues, replace the parking lot and address some civil engineering issues;
Served as Project Manager for the modernization and renovation of an occupied, historically significant mixed use 3-story building,
       commercial on the ground floor and 18 apartments on the upper two floors (private lender financing);
Procured financing and managed the development and construction of $3.2 Million, 25-unit senior affordable housing complex using a
       variety of funding sources (HUD 202 Capital Advance, CDBG, HOME, Spokane County 2060 funds and Avista rebates);
Assisted 1,407 low-income families with rehabilitating their homes as individual small-scale project management using federal funds
      (CDBG and HOME) through the provision of more than $27 Million in rehabilitation loans;
Created 476 "Lead–Free" affordable units in Spokane for both landlords and low income homeowners, through the provision of $3.5
       million in forgivable loans (Office of Healthy Homes and Lead Hazard Control funds);
Provided construction accounting consulting for the Fox Theater renovation, with a $30 Million project budget using Historic Preservation
       Tax Credits, New Market Tax Credits and private financing.
EDUCATION
Eastern Washington University:  Bachelor of Arts – Government
Old Dominion University:  Master of Public Administration
CONTINUING EDUCATION
RAD for PRAC—Planning for a Rent Increase and Possible Conversion (Webinar, 2020)
Rental Housing Development Finance (HD420, NDC, Minneapolis, 2019)
Low-Income Housing Tax Credit (LIHTC Webinar, NDC, 2019)
Master Class – Recapitalization of Assets, Contract Renewals and Rent Adjustments (Bremerton, 2017)
Asset Management Training (Yakima, 2015)
The Design & Construction Requirements of the Fair Housing Act (Spokane, 2015)
Affordable Housing Management Association of Washington Conference (Tacoma, 2015)
Healthy Homes Symposium (Spokane, 2013)
Lead Safe Housing Rule and RRP Technical Assistance Workshop (Spokane, 2013)
Lead & Healthy Homes Program Managers' School (OHHLHC & HUD, 2004, 2007-2013)
New Lead & Healthy Homes Grantee Boot Camp ( OHHLHC & HUD Washington DC, 2012)
Essentials for Healthy Homes Practitioners Course (Spokane, 2012)
Lead  and Healthy Homes Grantees & Indoor Environmental Health Conference (Miami, 2011)
National Healthy Homes Conference (OHHLHC Denver, 2011)
AARA Lead & Healthy Homes Grantee Workshop (OHHLHC Annapolis, 2010)
Neighborhoods, USA Conference (Spokane, 2009)
Lead Grantees Region 9 & 10 Conference (HUD LA, 2006)
Statewide Lead Round Table (State of Washington, 2006)
Office of Labor Relations Federal Labor Standards Training (HUD, 2006)
Critical Issues in Washington Construction (Lorman Education Services, 2002)
Project Management (2002) Impact Capital/Urban Renovation Consultants
Cost Reduction for Single-Family Rehabilitation & New Construction (2002) Impact Capital/Urban Renovation Consultants
Design Development for Project Managers (2002) Impact Capital/Urban Renovation Consultants
Design Review for Project Managers (2002) Impact Capital/Urban Renovation Consultants
COMMUNITY
Member Spokane Low Income Housing Consortium (2020-Present)
Spokane Housing Action Plan Working Group (2020)
Affordable Housing Working Group (2018 – Present)
LINC Foods (Local Inland Northwest Cooperative) Treasurer, Board Member (2015-2019)
Washington State Healthy Homes Initiative (2012)
Inland Northwest Small Farms Conference Planning Committee (2011– 2019)
Spokane Regional Food Policy Council (2012-2013)
Spokane International District Housing Committee (2011)
Food Access Coalition (2010-2013)
Regional Affordable Housing Task Force (2008-2009)