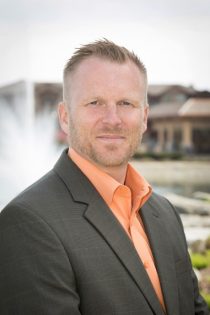 ---
Send a Message
Brokerage Services 
Commercial Sales & Leasing
Coeur d'Alene, Idaho Office
Chris Schreiber is an Associate Broker in Kiemle Hagood Brokerage Division,  licensed  in Idaho and Washington. Chris joined Kiemle Hagood in 2009, having worked in commercial real estate since 1991 with CB Richard Ellis, Charles R. Wilson & Associates and Abergel & Associates.  Chris focuses on commercial/investment real estate in Idaho and Washington, in which he represents Buyers, Sellers, Landlords and Tenants.
Chris is a graduate of the University of Southern California, with more than 2,500 hours of real estate education through USC, Appraisal Institute, California Department of Real Estate and Office of Real Estate Appraisers, Idaho Mediation Association, American Society of Farm Manager and Rural Appraisers, Idaho Real Estate Commission, Seminar Group, Commercial Brokers Association, Idaho Association of REALTORS® , and National Association of REALTORS®.
In 2008, Chris obtained the CCIM (Certified Commercial Investment Member) designation.  Chris is a member of the Commercial  Brokers Association (CBA), the National Association of REALTORS®  (NAR) and a member of Spokane and Coeur d'Alene Trader's Clubs.
REAL ESTATE EDUCATION
Real Estate Investment & Development:  USC
Real Estate Finance:  USC
Real Estate Appraisal:  USC
Real Estate Law:  USC & California DRE
Advanced Cost & Sales Comparison Approach:  Appraisal Institute
Advanced Income Analysis:  Appraisal Institute
Advanced Highest & Best Use Analysis:  Appraisal Institute
CI-101- Financial Analysis for Commercial Real Estate:  CCIM
CI-102 – Market Analysis for Commercial Real Estate:  CCIM
CI-103 – User Decision Analysis for Commercial Real Estate:  CCIM
CI-104 – Investment Analysis for Commercial Real Estate:  CCIM
CCR – Core Concepts Review: CCIM
Power of the 1031 Exchange:  CBA
Effective Communication & Human Relations:  Dale Carnegie Training
Advanced Mediation Training:  NAR, Chicago Headquarters
Advanced Commercial Leasing:  Seminar Group
Real Estate Development:  Seminar Group
INDUSTRY & AFFILIATIONS
Marshall School of Business Alumni Association: Member
USC Alumni Association:  Lifetime Member
Certified Commercial Investment Member, CCIM, #14837
Sandpoint Urban Renewal Agency (SURA):  Vice Chairman (Former)
National Association of REALTORS®: Member
Washington State Commercial Association of REALTORS®:  Member
Coeur d'Alene Trader's Club:  2009 President, 2008 Vice President
Spokane Trader's Club:  Member
Commercial Brokers Association (CBA):  Member
Loopnet (Online Commercial Marketing Network):  Premier Member
Former Certified General Real Estate Appraiser
Professional Standards & Ethics Committee:  Member
SIGNIFICANT TRANSACTIONS
US Military Entrance Processing Station:  Spokane
Liberty Dialysis Portfolio:  Hayden, Sandpoint, Nampa and Caldwell, Idaho
Quest Aircraft Hangar:  Sandpoint
Unicep Packaging:  Sandpoint
ODOM Distribution Warehouse:  Hayden
Riverstone Village:  Coeur d'Alene
Costco Plaza:  Coeur d'Alene
Poleline Self Storage:  Post Falls